at Does All Star Ford Offer Drivers from Denham Springs, Baton Rouge, Prairieville and Walker LA? Truly Exceptional Customer Service from Every Angle
Here at All Star Ford, everything we do revolves around you. Our various teams are trained to address your needs from the moment you walk through the door, whether you're in the market for your next vehicle or tuning up your current one.
Starting with our selection of new 2018-2019 Ford models, our Denham Springs, LA showroom is the place to be if you're in the market for a Ford F-150, Mustang, Explorer, F-250 or Fusion.
Looking to save some money in the search for your next car? All Star Ford also carries a wide range of used cars from Ford, as well as today's other top automakers.
Once you've chosen your next car, All Star Ford helps you take those all-important next steps towards driving home the Ford of your dreams. Our team of financing experts are trained to sort through various auto loan and lease details in order to help you find the right one for your needs.
Even after you've driven your new Ford F-150, Mustang, Explorer, F-250 or Fusion out of our showroom, All Star Ford continues to support you in order to ensure you have a great ownership experience. Our Ford service department offers everything from routine maintenance to repairs, when they're needed. And for those of you who prefer to tinker under the hood yourselves, we keep a healthy stock of auto parts for your endeavors as well.
As you can see, All Star Ford is equipped to handle all of your automotive needs, though we also keep in mind that everybody brings something different to the table. That's why we encourage you contact us today to see what we can do for you today by visiting us at 2586 Range Park Drive in Denham Springs, Louisiana.
All Star Ford is proud to be a part of the All Star Automotive Group in Louisiana. Our goal at All Star is to provide you with extraordinary customer service for all of your vehicle needs. Whether you are searching for a new or used vehicle, we look forward to sharing our vast knowledge of the automotive industry with you, your family and friends.  Our dedicated sales staff and top-trained technicians are here to make your vehicle needs fun, easy and financially advantageous.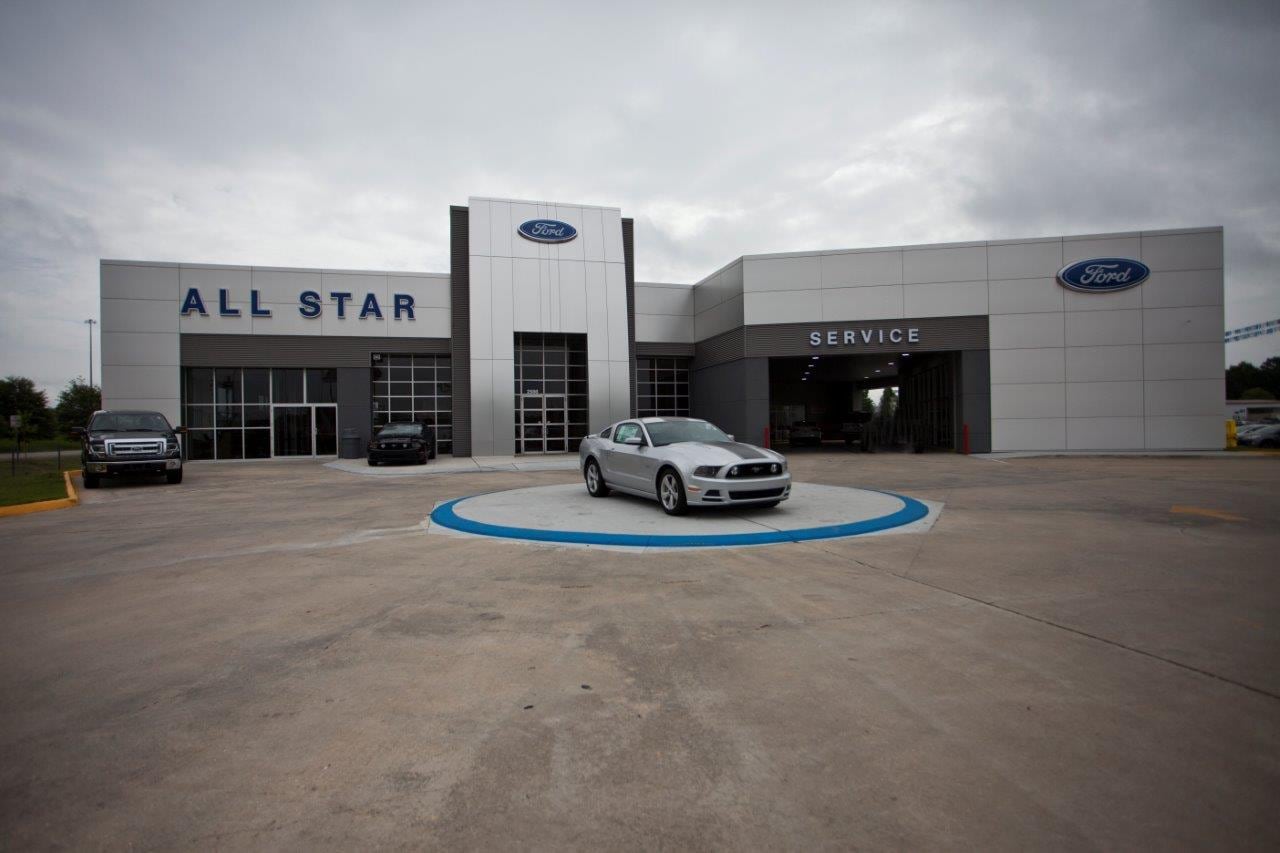 Are you looking for the best Ford service in the Baton Rouge area? Then stop by All Star Ford and get acquainted with one of our professional technicians. No matter what kind of service you need for your new or used vehicle, our friendly staff is happy to assist you. Whether you need a tune up or brake replacement, All Star Ford offers top notch service. Stop by All Star Ford for the best service in Baton Rouge, Prairieville, Walker LA and surrounding areas.
Service Appointment | Parts Order Form   
Need a Body Shop? All Star Ford has your covered! All Star Body Shop is the leading collision repair facility in the Baton Rouge area. Our confident and friendly technical team is fully trained and equipped to handle even the most challenging repair jobs and will take care of your car, truck, or SUV as if it were one of our own.
    - Frame and Unibody repair
    - Auto body panel repair
    - Radiator service & replacement
    - Upholstery and interior repair
    - Glass replacement/repair
    - Plastic bumper repair
    - Small dents & door dings
    - Spot painting
    - Complete paint jobs
    - PDR (Paintless Dent Repair)
    - Hail damage
Our direct auto body repair relationships mean that All Star car body shop meets or exceeds the insurance carrier's stringent standards for collision repair. Our state-of-the-art equipment, commitment to ongoing training, quality control process, industry certified technicians, written Lifetime Warranty, and unmatched Customer Service, allows these carriers to recommend us with confidence. Your benefit: confidence and peace of mind that your repair work is being handled quickly and professionally by one of the very best repair facilities in the country.
All Star Automotive Group was started in 1987 by LSU Alum Matt McKay and his business partner John Noland. Since that time, All Star purchased an average of 1 dealership every two years. In 2008 Matt McKay bought out his partner. In 2010, In spite of the recession, Matt McKay purchased 2 additional dealerships and 2 additional collision centers. A few weeks after that announcement was made, the Baton Rouge Business Report named Matt the 2010 Business Person of the Year for years of leadership, growth & success of company, and years of contributions to quality of life in the community.

Today All Star Automotive Group includes 5 Collision Centers, 11 Dealerships and represents 14 Manufacturer Brands.

Let us introduce you to our staff, show you some of our special offers on new vehicles and special offers on used vehicles, and take you through our complete line of new and used inventory. We can help you find exactly what you are looking for.

We know your time is valuable. We are sure you will find our site a fast and convenient way to research and find a vehicle that's right for you. If we can be of any assistance while visiting us online, send us an email and we will promptly reply. If there's anything we can help you with, please send us an email or call us at (225) 490-7605.  We look forward to serving you!